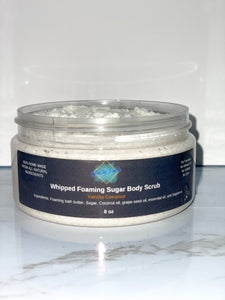 Whipped Foaming Sugar Body Scrub - Vanilla Coconut
These foaming whipped sugar scrubs are handcrafted from quality sugar and foaming bath butter soap base. Sugar scrubs make a great exfoliator by removing the dead skin cells leaving the skin soft, smooth and radiant for a glowing and polished look.

Ingredients: Foaming bath butter, Sugar, Coconut oil, Grape seed oil, Essential oil, and Fragrance.