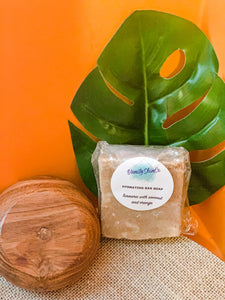 Hand Crafted Soap - Turmeric with Coconut Milk & Orange Essential oil
A refreshing citrus experience with an all natural hand crafted soap.

Turmeric is effective in the treatment of acne due to its antiseptic and antibacterial properties that fight pimples. It has anti inflammatory properties as well. Ginger has a calming effect that decreases the inflammation caused by psoriasis and severe cases of acne.
Ingredients: Coconut Oil, Shea Butter, 100% Extra Olive oil, Sweet Almond, Distilled Water, Coconut Milk, Sodium Hydroxide, Organic Turmeric Powder, & Orange Essential Oil.
*All bars are cut by hand so sizes can vary slightly from bar to bar.