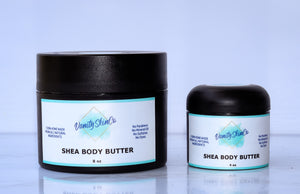 Soothing Shea Butter - Soothe
100% certified organic shea butter with light hints eucalyptus.
If you suffer from chronic pain, sore muscles, or insomnia then soothe is for you. 
Benefits of Magnesium include:
Relief of sore muscles
Calms the nerves
Helps to reduce inflammation
Improves sleep
Ingredients: Shea butter, mango butter, coconut oil, almond oil, grape seed oil, jojoba oil, argan oil, vegetable glycerin, magnesium, essential oil. All of our fragrance oils are phthalate-free.